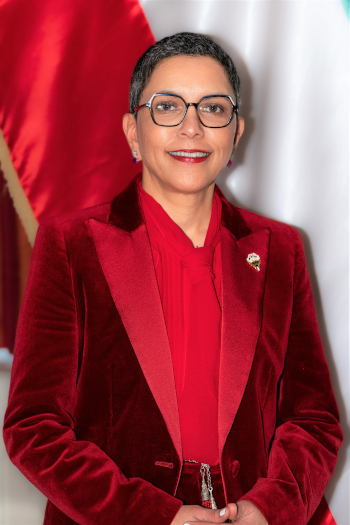 Reem Mohammad Khaled Zaid Al Khaled
Ambassador of the State of Kuwait to Canada
_____________________________________________________________________________________________
Her Excellency Reem Alkhaled presented her credentials to Her Excellency, The Right Honourable Julie Payette, Governor-General of Canada, on November 1st, 2019, instating Her Excellency as Kuwait's first female Ambassador to Canada.
Ambassador Alkhaled obtained her Master's Degree in International Studies and Diplomacy from SOAS – University of London, UK, in 1999.
Her Excellency Alkhaled brings extensive experience, having served at the highest levels in the political sectoras Minister Plenipotentiary and Assistant Foreign Minister for the Americas for the State of Kuwait.
Prior to her postings, Ambassador Alkhaled joined the Ministry of Foreign Affairs and was an Assistant to the Director of International Organizations for the Establishment of the United Nations Iraq-Kuwait Observation Mission (UNIKOM), and Security Council Resolutions, between Kuwait and Iraq, following the liberation of Kuwait in 1991.
Her Excellency Alkhaled is regarded as one of the most pioneering women in the political sector in the State of Kuwait. In 2017, she was awarded The Arab Woman Award – Government Award during her tenure as Assistant Foreign Minister.
While serving as the Ambassador of the State of Kuwait to Chile, she was also awarded the first-class Order of Merit in recognition of advancing ties between Kuwait and Chile. Ambassador Alkhaled aimsto strengthen and broaden the bilateral relationship in the political, economic, commercial, educational, and cultural domains with Canada.
During her current tenure in Canada, Her Excellency Alkhaled was awarded "Canada's Ambassador of the Year for the Middle East" in June 2023. The award was organized by the University of Ottawa in cooperation with the Canadian Ministry of Foreign Affairs and the International Council for Public Diplomacy. The award ceremony was attended by government officials, heads of diplomatic missions accredited in Canada, and directors from the University of Ottawa. The award was presented by His Excellency Stewart Wheeler, Chief of Protocol of Canada.
In May 2023, Ambassador Alkhaled participated in a compelling documentary that details the incredible service and sacrifice of Canadian veterans during the Arabian Gulf War. During thisevent, Her Excellency was received by MP Anita Vandenbeld, MP John Brassard, MP Luc Desilets, MP Alistair MacGregor, and RAdm (ret'd) Senator Rebecca Patterson.
Moreover, Ambassador Alkhaled took part in acelebration organized by the National Council of Veteran Affairsin Canadain cooperation with the Canadian War Museum in October 2022. During this event, Her Excellency was honoured, and the Embassy was recognized, in the presence of The Right Honourable Brian Mulroney, former Canadian Prime Minister, who held the position during the occupation of the State of Kuwait. Ambassador Alkhaled presented decorations to six veterans with the Kuwait Liberation Medals.